The new SGW factor – the innovative growth formula for calf rearing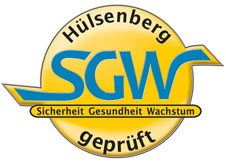 Logo SGW-Faktor
Diarrhoea is often observed in calves in the first days of life and can result in high losses and long-term developmental impairments. To prevent this, calves' digestion needs to be stabilised and harmful microorganisms suppressed. SCHAUMANN's new SGW factor provides for more safety, better health and stronger growth from day 1.

SGW factor, a complex of active ingredients with positive effects on intestinal activity, combines the probiotic PROVITA LE with functional lignocellulose and antimicrobial monoglycerides (MCM). The lignocellulose interacts positively with the probiotic to stabilise the intestinal mucosa, stimulate intestinal peristalsis and increase the resorption of water. The monoglycerides, which have a neutral odour and flavour, lastingly suppress harmful intestinal flora and promote intestinal health and vitality in rearing calves.

A calf rearing trial conducted by ISF Schaumann Research on Hülsenberg Estate has confirmed the beneficial effect of the novel MCM. Daily weight gain was increased by 6.6% (from 989 g/day to 1,054 g/day), while the energy input per kg weight gain was reduced by 11.9% (from 20.1 MJ/kg gain to 17.7 MJ/kg gain).

SGW factor is used in selected products of SCHAUMANN's KALBI milk range.

For further information please contact a SCHAUMANN consultant or our head office:
SCHAUMANN Agri International GmbH – An der Mühlenau 4 – 25421 Pinneberg
Telephone: +49 4101 218-5300
Fax: +49 4101 218-5399
info@schaumann-agri.de
www.schaumann.info
Download
1.391 characters
Download press release!