SCHAUMANN GREENSTAR
22.02.2012 - Special coordinated grass mixtures for forage cropping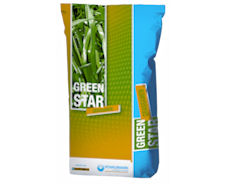 GREENSTAR-grass seed
GREENSTAR mixtures are especially designed to meet the demands of different arable forage production systems. They deliver highest possible yields while also giving high phytosanitary performance for sustainable soil productivity.
GREENSTAR AF1
High quality production from winter hardy forage, catch-cropped or as maincrop.
The GREENSTAR AF1 mixture comprises two high production annual ryegrass varieties. The crop satisfies production demands through a good winter hardiness and vital vegeta-tive growth producing high levels of foliage biomass. This gives very high yields per hec-tare of above average quality when moisture availability and fertiliser application are sufficient.
GREENSTAR AF3
Rapid bulking of the forage crop in the field both as catch-crop or as multi-year maincrop.
The mixture featuring a hybrid perennial x annual ryegrass cross and perennial ryegrass has proved itself through rapid early-season development giving fast bulking of the hybrid cross in the field as well as through the persistence and long production lifetime of the perennial ryegrass.
GREENSTAR STRUKTUR
Peak yields in long-term production from maincrop forage in locations with low available moisture in summer. The varieties of soft leaved tall fescue in this mixture, particularly aided by their deep-rooting habit, result in outstanding yield potential. Trial results in 2011 showed a 30 per cent yield advantage for GREENSTAR STRUKTUR for-age compared with other commercially available forage mixtures.
GREENSTAR LUCERNE
The queen of forage crops.
GREENSTAR lucerne with the variety Alpha gives the quality of growth that presents heavy yields and high crude protein production, very good resistance to nematodes, above average persistence and robust disease resistance. Inoculation of seed with rhizobium bacteria is recommended and a break from the crop in the rotation of at least four years should be planned.
Further information is available from SCHAUMANN specialist advisers or direct from:
SCHAUMANN Agri International – An der Mühlenau 4 – 25421 Pinneberg Germany 
Telephone: +49 4101 218-5300
Fax: +49 4101 218-5399
info@schaumann-agri.com
www.schaumann.info
Download
2200 characters
Specimen copy requested!