Gut Hülsenberg: climate-friendly milk production
24.06.2014 - balance of greenhouse gas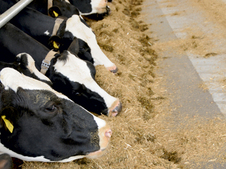 Gut Hülsenberg operates a sustainable agricultural production. The main focus lies on the preparation of efficient, high-quality and safe products, the maintenance of competitiveness, as well as preservation of resources.
Recently, the ecological performance of milk production has been quantified. In cooperation with the Niedersachsen Chamber of Agriculture Gut Hülsenberg created a greenhouse gas balance of milk production.
In addition to that, data of forage cropping and milk production has been recorded and analysed with regard to the emissions linked to the production. The production and the animal utilization of the animal food were identified as the main issuer.
Adjusted nitrate fertilization and land management which promotes the development of humus soil are suitable measures to reduce the greenhouse gases. Due to the almost closed production system these measures can be easily implemented at Gut Hülsenberg.
A comparison with dairy farms with high and low emissions shows, that Gut Hülsenberg 's emissions are even lower than the lowest calculated reference value. This means, that the milk is produced climate-friendly. This extraordinary performance results out of good housing conditions and an excellent feeding management.
Gut Hülsenberg GmbH – Wiesenweg 32 – 23812 Wahlstedt
Telefon: +49 4554 9993-200
Fax: +49 4554 9993-249
info@huelsenberg.de
Your contact
SCHAUMANN Press Services
Tel: +49 (0) 4101 218-5607
Fax: +49 (0) 4101 218-5699
Send an e-mail...

Download
1.439 characters
Download press release