Heat stress in diary cows
10.06.2014 - Targeted feeding helps prevent heat stress in dairy cows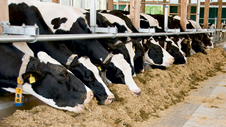 prevent heatstress - targeted feeding
Temperatures above 20°C, high humidity and reheating of feed rations – that's all it takes for cows to suffer from heat stress. As a consequence, feed intake and fibre supply deteriorate, rumen health and metabolic efficiency suffer, blood glucose levels drops, and both milk yields and milk protein decrease.
Appropriate solutions for any symptom
To ensure that dairy cows consistently produce high-quality milk and maintain high performance, their nutrient and energy supply must be continuously adjusted. SCHAUMANN products address symptoms in a targeted manner and have proven successful in special feed situations.
Stimulation of feed intake
SCHAUMASIL TMR products supply cows with substances that promote healthy blood sugar levels. SILOSTAR TMR products inhibit the growth of yeasts in warm feed rations and improve ration quality.
Stabilisation of ruminal pH
RINDAMIN BP supplies buffer substances for saliva, blood and rumen and helps stabilise the rumen in combination with the ASS-CO FERM live yeast complex. RINDAMIN BP can additionally increase milk protein.
Maintenance of milk yields
SCHAUMANN ENERGY products increase the supply of energy without increasing the risk of acidosis, and they stabilise both milk yields and milk fat contents.
Strengthening of natural resistance
Organically bound AMINOTRACE trace elements are highly bioavailable and therefore optimise cows' overall nutritional status. They further contain the ZELLPRO cell protection complex for additional support.
Preventing heat stress ensures consistently stable milk production. Timely prevention helps maintain dairy cow performance throughout summer. For further information please contact
SCHAUMANN Agri International GmbH – An der Mühlenau 4 – 25421 Pinneberg
Telephone: +49 4101 218-5300
Fax: +49 4101 218-5399
info@schaumann-agri.de
www.schaumann.info
Your contact
SCHAUMANN Press Services
Tel: +49 (0) 4101 218-5607
Fax: +49 (0) 4101 218-5699
Send an e-mail...