SCHAUMALAC 50 PLASMA G - sow farm achieves better feed conversion in pig rearing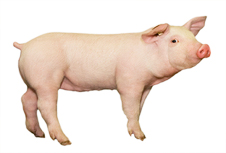 Reports from the world of practice confirm it: SCHAUMALAC 50 PLASMA G supplements the farm's own cereals by 50% and improves piglet health and vitality, getting pig rearing off to a smooth start. SCHAUMALAC 50 PLASMA G mixes are now fed not only on specialised starter farms but also in conventional production units.
A practical comparison on a SCHAUMANN customer farm proves how successful it is. The results of a 450-sow herd using SCHAUMALAC 50 PLASMA G mixes in the initial phase of pig rearing were compared with results obtained through the use of a conventional starter mix according to the SCHAUMANN concept.
Trial period
During the three-week suckling period and the rearing period, the piglets received the farm's own mixes with different proportions of SCHAUMALAC 50 PLASMA G and SCHAUMALAC PROTECT F 100 or SCHAUMALAC F 90 up to a liveweight of 30 kg (see illustration of feed mixes).
The test data used were simultaneous measurements on a control group given a conventional starter mix according to the SCHAUMANN Concept, but without blood plasma and fish meal. The piglets were weaned at an average liveweight of 6.3 kg.
Results
The trial group had daily weight gains that were 32 g higher on average. The rearing period was reduced by 4 days compared with the control group. The piglets receiving SCHAUMALAC 50 PLASMA G showed a feed conversion rate of 1:1.69 (control 1:1.79). In addition, improved piglet vitality was observed, especially in the initial rearing period (see results table).
Summary
The results confirm the effectiveness of Schaumalac 50 Plasma G. Higher daily weight gains, improved feed conversion and increased throughput guarantee the economic viability of pig rearing. It has never been so easy to meet the needs of rearing piglets in the weight range from 6.5 to 30 kg liveweight.
Results
| | | |
| --- | --- | --- |
|    | Control | SCHAUMALAC 50 PLASMA G  |
| Starting weight (kg) |  6,3 |  6,3 |
| Final weight (kg) |  30 |  30 |
| Rearing period (d) |  57 |  53 |
| Daily weight gain (g) |  434 |  466 |
| Feed conversion (1: ) |  1,79 |  1,69 |
Used feed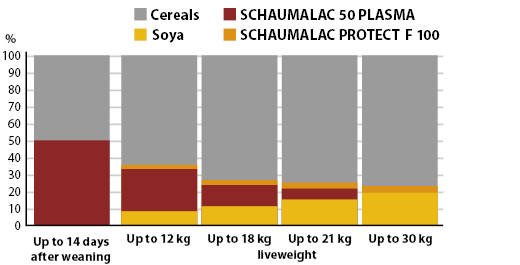 Feed mixes used
The Product
SCHAUMALAC 50 PLASMA G is a piglet feed supplement that contains gelatinised cereals, vegetable and animal protein, top quality dairy and fat components and a full supply of minerals and active ingredients. The active proportions of fish meal and blood plasma ensure high protein quality and guarantee an optimum supply of protein. Multiple trials confirm that the use of blood plasma increases piglets' feed intake in the first few weeks after weaning. The immune system and the development of the digestive tract are also improved.
Note: SCHAUMALAC 50 PLASMA G should be used in accordance with current feed law provisions, as the product contains fish meal and blood plasma.
Author
Henrike Kaack
Product Management Horse, Pig - SCHAUMANN Germany
Contact
Research & Developement
Devision Pigs
Phone +49 4101 218-2250
Fax    +49 4101 218-2287 
Send us an e-mail...

Product range
Piglets