SCHAUMA OMNI-S – for the high-performance feeding of sows, piglets and boars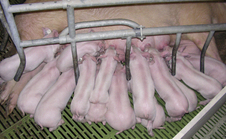 Salmon oil and lignocellulose as value-determining constituents, gelatinised wheat as a carrier, organic acids and antioxidants as stabilisers – the additives in this product guarantee health, fertility and vitality for high performance and profitability.
SCHAUMA OMNI-S was designed specially for the high-performance feeding of sows and piglets. The high levels of top-quality salmon oil it contains have a strong positive influence on various physiological parameters. The immune system is supported and the fertility of sows and boars is improved. In addition, the vitality and resistance of the newborn piglets are enhanced.
High-value salmon oil
The salmon oil used has a high, stable content of omega-3 fatty acids (EPA, DHA, DPA) and a high degree of freshness and good oxidation status because the chilled raw materials are always freshly processed.
Functional lignocellulose
Functional lignocellulose with defined proportions of fermentable fibre has a targeted effect on intestinal health. The standardised combination of soluble and insoluble nutritional fibre has many advantages: accelerated passage through the large intestine reduces the build-up of pathogenic organisms. Fermentation processes move to the lower intestinal region and improve dung consistency. The prebiotic effect, binding and inactivation of pathogenic organisms, together with stress-reducing effects, are further properties specific to lignocellulose.
Hydrothermally treated wheat
Both physically and nutritionally, hydrothermally treated wheat is an excellent carrier for the quantities of oil required, which are obtained by a special vacuum process. This process is an important element of the developmental concept behind SCHAUMA OMNI-S because it is only by achieving high oil contents that we are able to recommend moderate mixing rates.