Tests have confirmed that CERAVITAL increases core performance indicators in turkeys and broilers
Improved feed conversion and the targeted use of NSP-rich cereals such as oats, rye, barley and even corn can help reduce feed costs. SCHAUMANN has developed CERAVITAL, a fermented product from the fermentation of solids, in order to minimise anti-nutritional effects and maximise the bio-availability of nutrients and NSP fractions. The superior effect of this product on poultry has been confirmed by both research studies and field trials.  
CERAVITAL improves live weight gain and feed conversion in broilers
ISF SCHAUMANN RESEARCH has conducted three feed tests on broilers to demonstrate the performance potential of CERAVITAL. The animals were given a mixed OVITAL MM CV ATG feed. The live weight gain and feed conversion performance parameters both improved over the five-week trial period (see Fig. 1 and 2). Adding CERAVITAL to feed resulted in an increase in the final finished weight of more than 80 g. Apart from improved feed conversion and greater live weight gain, animals also exhibited substantially greater vitality and homogeneity, resulting in an additional increase in profitability.
Turkeys reached the final finished weight one week sooner
In field trials, SCHAUMANN-PUTENMINERAL was used in combination with CERAVITAL and organically bound AMINOTRACE trace elements, plus a turkey fattening finisher and wheat. A total of 20,000 animals were stocked in the fattening house at 34 days of age. Losses of merely 3% were recorded at the end of the fattening period, including rearing losses.Using CERAVITAL allowed the final finished weight of 23.57 kg to be reached in only 21 weeks (see Fig. 3). The control group reached a weight of 22.80 kg after a fattening period of 22 weeks. The animals in the test group could therefore be destocked a week earlier, at the required final finished weight and with a feed conversion rate of 1:2.51. Also, the animals in the test group were substantially more homogeneous.    
Fig. 1.: The use of CERAVITAL significantly improves live weight gain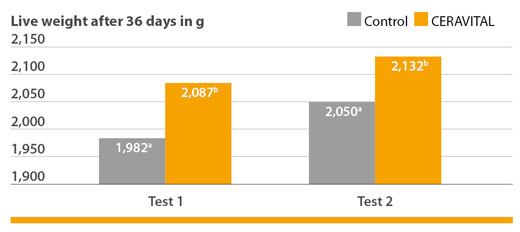 The use of CERAVITAL significantly improves live weight gain
Fig. 2: CERAVITAL achieves substantially improved feed conversion in broilers by day 36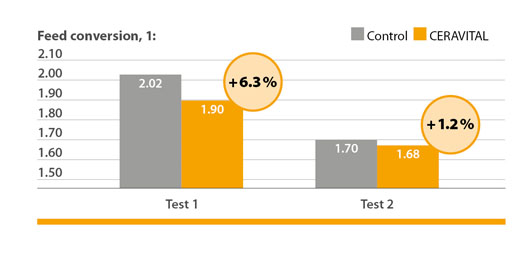 CERAVITAL achieves substantially improves feed conversion in broilers by day 36
Fig. 3: The use of CERAVITAL promotes weight gain in turkeys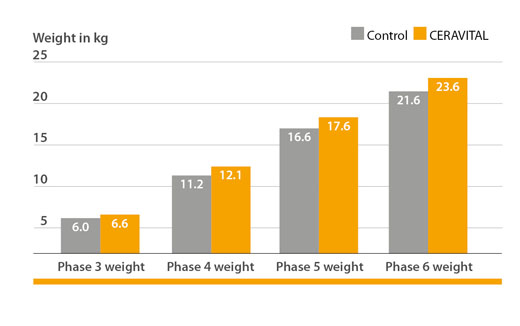 Using CERAVITAL promote weight gain in turkeys at the various fattening stages