Gut Hülsenberg – best conditions for cosistently high performance
26.03.2015 - Frauke with lifetime productivity of 100,000 kg milk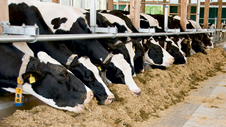 Currently 210 cows are placed at Gut Hülsenberg in the surrounding of Wahlstadt, which is distinguished by a constant high performance. Over the years the performance level has steadily increased and is currently at an average capacity of 11,873 kg milk with 3.91 % fat and 3.27 % protein.

This performance combined with a high service life, the cows of Gut Hülsenberg show repeatedly a lifetime productivity of 100,000 kg milk. This year Frauke (Father: Aron/ MF Jedstars) has been honored. In the 8th lactation she achieved a lifetime productivity of 114,083 kg milk. Separated cows have an average performance of 18,6 kg milk per day.

The constant high performance of the cows is based on the excellent conditions at Gut Hülsenberg. After the reorganization and new building of the stables, they offer the best comfort for cows, young cattle and cattle which are concerted to the needs of the animals. In addition, it ensures an individual and performance-linked feeding after the SCHAUMANN-concept as well as an experienced management high single and yearly performance.
Gut Hülsenberg GmbH – Wiesenweg 32 – 23812 Wahlstedt
Telefon: +49 4554 9993-200
Fax: +49 4554 9993-249
info@huelsenberg.de
Download
1.739 characters
Download Press release