ASS-CO FERM - Live yeasts and probiotics for the rumen metabolism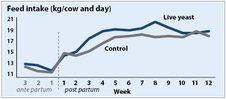 Feed intake after administration of live yeasts in newly lactating cows (Ettle and Schwarz, 2002)
ASS-CO FERM is a probiotic combination with live yeasts and other active substances developed through SCHAUMANN research. It improves health and increases milk yields and feed intake.
The specifically selected yeast cultures ensure a continuous optimal colonisation of the rumen with live yeasts for accelerated fibre degradation and a stable rumen pH. They are able to use the lactic acid in the rumen for their own metabolic functions.
Live yeasts in ASS-CO FERM improve bacterial growth
The live yeasts in ASS-CO FERM consume the residual oxygen in the rumen and thus create better initial conditions for bacterial growth. They stimulate the conversion by lactic acid-consuming bacteria. The lactic acid concentration in the rumen is reduced, the pH-value is stabilised and thus the general living conditions of the cellulose degrading bacteria are improved, resulting in higher feed intake and higher milk yields.
The result: higher feed intake and higher milk yield
The accelerated fibre degradation (see Fig. 1) leads to higher feed intake (see Fig. 2) and more available protein in the small intestine.The improved digestibility of the crude nutrients also increases feed efficiency. This results in higher milk yields (see Fig. 3) with unchanged components.
Altogether, the cow's health is improved through the stable rumen metabolism and the smooth liver metabolism.
Contact
Research & Developement
Devision Cattle
Phone + 49 4101 218-3000
Fax   + 49 4101 218-3199
Send us an e-mail...

Product range
Products for dairy cattle

Product range
Products for fattening bulls