Fattening bulls Comparison of basic and premium variants of RINDAMAST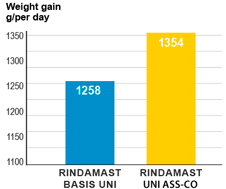 Average daily gain in a field trial with 450 bulls
A field trial with 450 brown bulls confirms the efficacy of RINDAMAST products, particularly the variant containing live yeasts and sulphur, RINDAMAST UNI ASS-CO.
Trial setup
The feed trial was performed with 450 brown bulls with liveweights ranging from 150 to 270 kg over 82 fattening days. There were two separate groups kept in the same conditions and fed identical feed. The only difference was in the supply of minerals. One group was fed RINDAMAST BASIS UNI and the second was given RINDAMAST UNI ASS-CO, which, unlike the lower-cost basic product, additionally contains sulphur and the active ingredient complex ASS-CO FERM.
Results
The group fed RINDAMAST BASIS UNI achieved an average daily weight gain of 1258 g. The second group was given RINDAMAST UNI ASS-CO and achieved an average weight gain of 1354 g (see Fig. 1). With the same feeding conditions, therefore, the daily weight gain was 96 g higher. For every 100 g of additional daily weight gain, the profit per stall space increases by about €40-€50 per annum.
Summary
 The improvements in animal health and the approximately 7.6% higher liveweight gain convinced the farmer to use RINDAMAST UNI ASS-CO throughout all fattening periods.
Contact
Research & Developement
Devision Cattle
Phone + 49 4101 218-3000
Fax   + 49 4101 218-3199
Send us an e-mail...

SCHAUMANN Active ingredient
Increase of the performance through ASS-CO FERM

Product range
Products for fattening bulls