SCHAUMA OMNI-S – Practical trial with 300 sows confirms improvements in fertility and vitality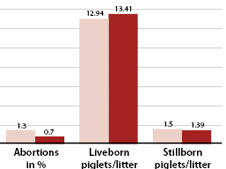 The use of SCHAUMA OMNI-S produces a marked improvement in performance
Reports from the world of practice confirm it:
fewer puerperal disorders occur with SCHAUMA OMNI-S. It leads to more intensive oestrus behaviour and a higher conception rate. The positive effects of SCHAUMA OMNI-S have been documented in another practical trial.
Description of trial
Over a period of seven months (February to August), 300 sows were given this innovative supplement throughout the intervals between litters and throughout pregnancy. The trial group's rations were supplemented at the rate of 3.0%.
Marked positive change in performance parameters
The performance data showed that the supplement had positive effects on the physiological parameters recorded. For example, a clear increase in fertility parameters was observed, even during the hot summer months which often have an adverse effect on fertility results. The performance of individual animals was stabilised. In addition, the piglets displayed a marked increase in vitality and improved immunity.
Results in terms of fertility parameters
The diagram shows an overview of changes in fertility parameters before and after the use of SCHAUMA OMNI-S. The number of services needed per litter was reduced by 5.7%. Returns to oestrus were reduced by 46% and abortions fell by around 46%.
Results in terms of piglet vitality
A significant finding is the 0.47% increase in the number of liveborn piglets. The use of SCHAUMA OMNI-S reduced the number of stillborn piglets.
Summary
These trial results confirm the positive reports on the use of SCHAUMA OMNI-S in practice. Fewer returns to oestrus means more litters per sow and per year and more liveborn piglets per litter are the basis for more piglets per sow and per year.
Author
Henrike Kaack
Product Management Horse, Pig - SCHAUMANN Germany
Contact
Research & Developement
Devision Pigs
Phone +49 4101 218-2250
Fax    +49 4101 218-2287 
Send us an e-mail...

Product range
Sows and boars