Research results - Silage additives and feed hygiene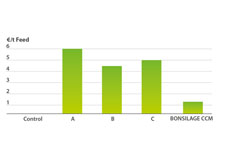 Results of a recent rial conducted by the Riswick Agricultural Research and Education Centre have demonstrated that BONSILAGE CCM presents a highly effective, economical, non-corrosive alternative.
BONSILAGE puts more protein in the small intestine. BONSILAGE improves the protein quality of grass silage with lasting effects. This finding is confirmed by the analytical results obtained by the University of Hohenheim in extensive trials.