SCHAUMACID S - Feed acid against salmonella
07.02.2013 - New results confirm the immediate effect against salmonella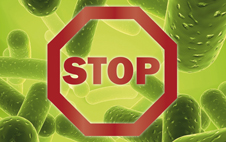 SCHAUMACID S stops salmonella
Salmonella endanger animals and people. Therefore, the prevention and the control against salmonella should be the focus of the hygiene management. A secure solution for reduction of salmonella is developed by SCHAUMANN, the liquid Feed acid SCHAUMACID S, whose high efficiency has been confirmed once again.
The current in-vitro study at the FH Tulln (Austria) in August 2012 verify the immediate effect and the lasting minimisation of Salmonella by SCHAUMACID S. Both, gram-negative bacteria (salmonella, E. Coli) and gram-positive bacteria (staphylococci, clostridia) were demonstrably reduced. The growth of salmonella decreases to 4.7 % of the 100 % control, the clostridia to 3 %.
SCHAUMACID S is a combination of short- and medium chained acids and is added to the complete feed or applicated to the drinking water. Through the careful selection of the acids the invasion rate of the salmonella in the intestinal tract is effectively reduced. Furthermore the microbial colonization of the digestive tract with a positive intestinal flora is supported and animal health is improved.  
Further information about the effective reduction of Salmonella you will receive from Schaumann-consultants or directly
SCHAUMANN Agri International GmbH – An der Mühlenau 4 – 25421 Pinneberg - Germany
Telephone: +49 4101 218-5300
Fax: +49 4101 218-5399
Download
1.474 Zeichen
Belegexemplar erbeten!