BONSILAGE ALFA - a new silage additive for lucerne and grass clover silage
21.03.2013 - BONSILAGE ALFA - a novel combination of lactic acid bacteria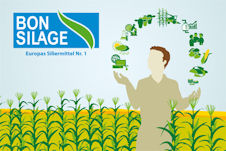 BONSILAGE
SCHAUMANN launches the new silage season with an innovative product: BONSILAGE ALFA, a new lactic acid bacteria combination developed specially for producing lucerne and clover grass Silage.
SCHAUMANN launches BONSILAGE ALFA, a silage additive that can be used over a relatively wide dry matter range of approx. 30-45% DM. BONSILAGE ALFA combines L. paracasei, L. plantarum and Lc. lactis, that is three homofermentative lactic acid bacteria (LAB), with L. buchneri, a heterofermentative LAB strain.
Both L. paracasei and the recently registered L. plantarum are quite unique in their ability to decompose fructans, ensuring that considerably more sugars are available for fermentation and pH levels are efficiently reduced even with silage that is difficult to ensile, such as lucerne or clover.
Lc. lactis is known to inhibit fermentation pests such as clostridia and enterobacteria directly.
L. buchneri additionally ensures that acetic acid and propanediol are released in a controlled manner throughout the ensiling process, which provides superior protection against overheating compared to untreated Silage.
BONSILAGE ALFA has been extensively tested in various field trials in Germany, the Czech Republic and Spain. Dairy farmers unanimously reported that the resulting silage product offered not only outstanding taste, but also improved aerobic stability through to the feed trough.
For further information please visit www.bonsilage.de, or contact your expert SCHAUMANN consultant or directly:
SCHAUMANN Agri International GmbH - An der Mühlenau 4 - 25421 Pinneberg - Germany
Telephone: +49 4101 218-5300
Fax: +49 4101 218-5399
Download
1.735 Zeichen
Belegexemplar erbeten!