SCHAUMASIL Product Range: Organic acids for cereal preservation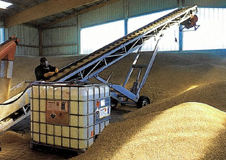 Preservation and feed hygiene are important aspects of animal nutrition. Using acids to preserve cereals is a proven method to prevent moulds and bacteria from developing in feed mixes, moist cereal grains and CCM. Additional benefits include improved animal performance and low fixed costs with very high efficacy compared to other preservation methods such as contract drying or on-farm drying.
Using SCHAUMASIL products for cereal preservation lowers bacterial, fungal and yeast counts to levels below the limit of detection. Crops retain their full quality over extended periods with stable nutritional value and hygiene status over the entire storage period (see mode of action table).
Improved performance
Cereals preserved with SCHAUMASIL optimise feeding: The acids used for preservation have excellent taste, stimulate digestive enzyme activity, act as anti-microbial agents and are effectively converted into energy. These benefits combine to offer significantly increased performance, as has been demonstrated experimentally by Stalljohann (see rearing performance table).
High efficacy
Preserving cereal grains with SCHAUMASIL is extremely efficient, allowing throughputs of up to 30-50 t per hour to be achieved, compared to 2-4 t per hour with on-farm drying. This ensures that crops are stabilised quickly for storage, even where grains are quite wet.
Low fixed-cost component in the overall cost structure
Cereal preservation with SCHAUMASIL also offers clear benefits regarding cost structure and investment demands: An investment of only about EUR1500 (metering unit only) to EUR5000 (incl. metering screw) is sufficient for establishing the technical requirements for this highly effective method. On-farm drying, in contrast, requires an investment of about EUR20,000 to EUR50,000, depending on system performance, resulting in a relatively high financial burden in cereal preservation costs (see cost comparison table).
Different product options for different needs
The SCHAUMASIL product range includes a selection of liquid and granulated products in order to meet a wide range of different needs. For an overview please visit the Products section.
Mode of action of SCHAUMASIL
Active ingredients

high level of organic acids

Where

in feed
Limited effect in the gastro-intestinal tract 

How

Preservation of feed
Reduction of microbial counts
Good efficacy even at pH levels around 5

Via

Prevention of nutrient losses in feed
Reduced enzymatic activity
Reduced formation of mycotoxins
Lower strain on animals due to lower microbial counts in feed

When

Immediately and sustained throughout the entire storage period

Economic benefit

Lower preservation costs
Optimum feed hygiene - harvest-fresh cereals throughout the entire storage period
Low fixed-cost portion for preservation technology
Rearing performance with acid-preserved cereals
Group

"fresh cereal"

Group
"acid-preserved"


Group
"dried cereal"

stocked animals

79

79

79

evaluated animals

78

77

79

birth weight, kg

1,54

1,57

1,53

weanin weight, kg

8,14

8,14

8,15

weight at the end of the trial, kg

26,05

28,16

26,14

trial duration, days

47

47

47

feed intake per animal and day, g

667

749

679

totaly daily weight gain, g

378

421

380

feed conversion, 1:

1,77

1,78

1,79


daily weight gain, g

40
Source: Stalljohann (SUS 3/2008)
Comparsion of preservation costs
with 18 % moisture content, 50 ha/year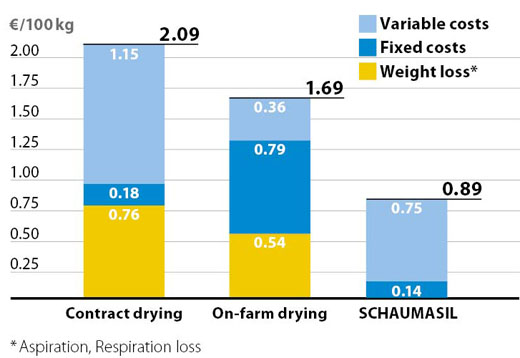 Comparison of cereal preservation costs
Product range
Silage additives and feed hygiene