Biological silage additive BONSILAGE PROTECT is shown to protect against Clostridia in the medium DM range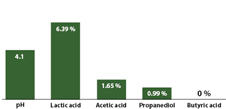 Average fermentation acid pattern (in % DM) and pH with BONSILAGE PROTECT
Farm-based studies confirm that BONSILAGE PROTECT provides efficient protection against Clostridia and silage heating in the medium DM range.
Description of trial
BONSILAGE PROTECT was tested both in the laboratory and in field trials. The grass silages studied came from a number of different farms and had an average dry matter content of 36.3 %. The study examined the fermentation acid pattern and the presence of various Cl. botulinum species.
Results for fermentation acid pattern
All of the silages studied were free of butyric acid (0.0 %), an important metabolic product of silage-damaging Clostridia, which leads to high DM and energy losses. On average, they showed 1.65 % acetic acid and 0.99 % propanediol as a percentage of DM. The result is attributable to the extensive metabolism of L. buchneri.
Results for bacteriology and mycology
The silages obtained from farms with confirmed or suspected botulism in their dairy herds were also tested at the Leipzig Institute for Bacteriology and Mycology. All of the silages were free of the various Cl. botulinum species A to F. This is a notable result because silage is one of the most important routes by which Clostridia enter cattle populations.
Summary
 The negative findings for C. botulinum in combination with the 0 % butyric acid content prove that Clostridial growth is successfully inhibited by the specially selected lactic acid bacteria in BONSILAGE PROTECT.