Best grades for BONSILAGE - silage competition in Lower Saxony
In 2016, the chamber of Agriculture of Lower Saxony has awarded grass silages of high quality. Many farms were able to produce, in spite of adverse weather conditions, excellent quality forage and lay foundation for low feed costs, high animal health and best performances.
The obligatory programme of grass ensiling includes a perfect cutting time and adapted silage-management. Closer inspection of the analysis-results shows, that the use of BONSILAGE is an additional benefit. The benchmark for participating silages is considerably higher than targets at standard analyses. In the average of the analysis-results especially the intended parameters such as pH-value (formulation of lactic acid) and formulation of acetic acid (stability) become available through the application of the right silage additive (see figure 1)

BONSILAGE acts unique
The production of increased acetic acid content in combination with simultaneously ensured stable pH-value through quick lactic acid fermentation, makes the effect of BONSILAGE-products unique and safe to use. Grass silages are also protected from high losses through reheating and thereby nutrient losses due to harmful organisms. In the reference period 2016 the mean value of grass silages treated with BONSILAGE are 3 times higher in formulation of acetic acid in comparison to the untreated grass silages (see figure 2)
BONSILAGE produces propylene glycol
Grass silages treated with BONSILAGE produce additional valuable propylene glycol for cows. The high amount of awarded silages treated with BONSILAGE speaks for the strategic use and application of silage additives. Only in this way, the second important column of silage preparation – optimisation of fermentation quality – can be crucially supported.
Especially the parameters pH-value and acetic acid can achieve, with Bonsilage treated silages, the target values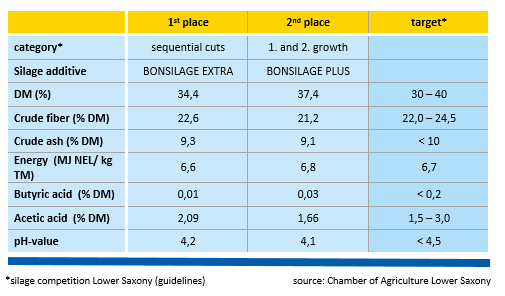 Silages treated with BONSILAGE achieved best value.
figure 2: 3-times better protection against harmful organisms through BONSILAGE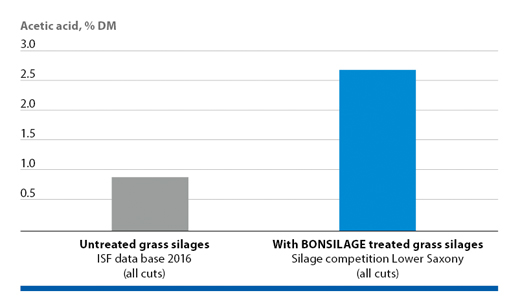 Untreated grass silages in comparison to BONSILAGE treated grass silages.
BONSILAGE. Measurably improved feed quality in silages.
www.bonsilage.de