Reducing salmonella in pig-keeping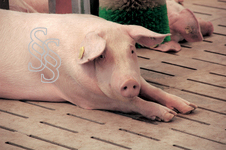 The German Pig Salmonella Ordinance makes it compulsory for pig-keepers to analyse, document and control salmonella in their fattening pig herds. The salmonella status obtained in this way is also an important marketing and payment criterion; it is therefore important to reduce salmonella effectively with consistent hygiene practices and feed measures.
Measures preventing salmonella from entering the farm
Ensure controlled deliveries of piglets and young sows from the same suppliers with an appropriate salmonella status.
Thoroughly clean and disinfect all transport vehicles, races, loading ramps and working equipment after every delivery.
Control rodents, flies and any maggots in the slurry consistently with a larvicide and keep a record of these treatments.
Keep other animals such as dogs, cats and birds out of the shed and the feed store.
Maintain high personal hygiene standards, e.g. with a disinfectant bath outside every pen.
Take measures to prevent salmonella from spreading on the farm
Strictly observe the All In, All Out method.
Clean and disinfect stalls before introducing new animals (using DVG-listed, anti-salmonella disinfectants).
Clear out, thoroughly clean and disinfect remaining animals and quarantine areas regularly.
Clean feed containers (silos), mobile feeders and feed pipes regularly.
Clean ventilation shafts to prevent germs from being blown into freshly cleaned pens.
Keep liquid feed systems and drinking water pipes hygienically safe with the appropriate products.
Feed measures to protect against salmonella and promote animal health
Feed measures such as feed structure and special acid additives can be used to improve the pigs' intestinal health.
Flour-like, coarsely ground feed promotes increased fermentation in the large intestine with a correspondingly higher quantity of short-chain fatty acids with bacteriostatic properties (propionic acid, butyric acid and acetic acid). These promote development of lactobacilli in the gastrointestinal tract and encourage balanced intestinal flora.
Oat-based feed mixes (with minimal wheat and rye contents) improve the feed structure and increase the levels of bacterially fermentable substances in the large intestine.
Special organic acids have a positive impact on intestinal health. Bacteria like salmonella and E. coli are effectively reduced. By regulating the pH value of the stomach, it is possible to create a protective barrier against these harmful microorganisms and optimise pepsin activity for protein digestion.
Contact
Research & Developement
Devision Hygiene
Phone +49 4101 218-3000
Fax     +49 4101 218-3199
Send an e-mail...

Product range
Piglets