Calves feeding: higher daily intake with AMINOTRACE-BIS-LYSINATE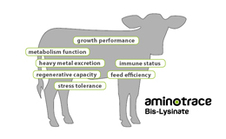 main activities
AMINOTRACE-COPPER-BIS-LYSINATE and AMINOTRACE-ZINC-BIS-LYSINATE combine the amino acid lysine with the trace elements copper and zinc. The high biological availability enables optimized rearing performance with reduced excretion of heavy metals of calves. New trials at Gut Hülsenberg confirm the effect of AMINOTRACE-BIS-LYSINATE in calf rearing.
During an 8-week-trinking-trial, calves are divided into two groups.
Group 1: Milk replacer with cooper and zinc in inorganic form as Cooper-Sulphate and zinc oxide and completed with the essential amino acid lysine.
Group 2: Milk replacer with AMINOTRACE-BIS-Lysinate, the effective combination of trace elements and lysine. The milk-replacer potions were made restrictively in all groups with 7.0 l / animal / day
Increased daily weight gain
With the same amount of potions a clear difference between the daily increases in both groups is shown. The daily weight gain of group 1 was about 913 g/ day. Group 2 with AMINOTRACE-BIS-LYSINATES achieves in comparison to group 1 an increase about 4 % to 952 g/day (see figure 1).
Improved energy utilisation
AMINOTRACE-BIS-LYSINATE convinces also with regard to feed conversion. The calves of group 2 require 20 MJ ME per kg weight gain. Calves of group 1had to take 21,5 MJ ME per kg weight gain, in spite of equal amino acid supply, to achieve same result as group 2. The use of AMINOTRACE-BIS-LYSINATE improves the energy utilisation during the drinking period by 7,5 % (see figure 2).
figure 1: AMINOTRACE-BIS-Lysinate increase daily weight gain during drinking period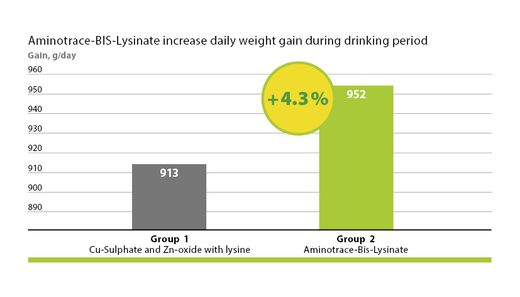 AMINOTRACE-BIS-LYSINATE increse the daily weight gain during the drinking period by 4,3 %
figure 2: AMINOTRACE-BIS-LYSINATE improves energy utilisation during the drinking period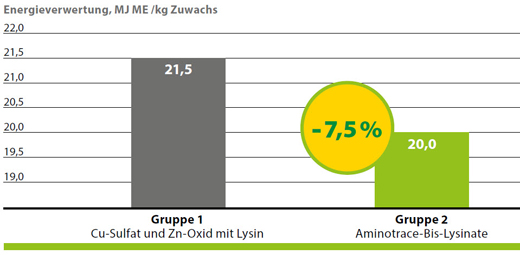 AMINOTRACE-BIS-LYSINATES improve the energy utilization during the drinking period by 7,5 %.