Award for 60 years DLG-proven mixed feed quality
24.11.2016 -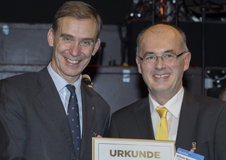 DLG-Präsident Carl-Albrecht Bartmer (li.) mit SCHAUMANN-Geschäftsführer Dr. Wilhelm Weisthoff © DLG
On the occasion of EuroTier 2016, SCHAUMANN was awarded a certificate by "Deutsche Landwirtschafts-Gesellschaft (DLG)" for its 60 years lasting membership in DLG-label for mixed feed.

Since 1956 Schaumann has continuously been authorized, to carry the DLG-label and undergoes voluntarily the quality controls by the DLG President Carl-Albrecht Bartmer praised 60 years of continuous highest quality. Although innovative capacity has been realized, fulfillment of high DLG-quality standards has been confirmed in every single year. Several times per year, DLG-labeled feedstuffs are tested and quality management in production plants is audited.
For further information please contact your Schaumann-consultant or get in contact with our headquarter
SCHAUMANN Agri International – An der Mühlenau 4 – 25421 Pinneberg
Telefon: +49 4101 218-5300
Telefax: +49 4101 218-5399
info@schaumann-agri.de
www.schaumann.info
Download
875 characters
Download press release!