PROFIDRY – the unique hygiene powder for profesionals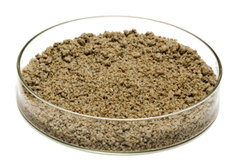 PROFIDRY with enormously high water binding capacity
Unclean, humid and slippery farrowing nests are a big problem in piglet production. They offer pathogen germs optimal development opportunities. PROFIDRY, the new innovative hygiene powder of ISF SCHAUMANN FORSCHUNG, absorbs humidity and make a dry, nonslippery surface. The danger of straddle of the piglets is reduced.

Also in the area for serving and waiting area hygiene powder brings, scattered behind the sow, stability and decreases the germ burden.

Due to the enormously high water binding capacity of PROFIDRY, in comparison to conventional hygiene powder, the application rate is significantly reduced. The formation of ammonia is reduced, which improves the indoor climate and creates an optimal microclimate directly in the farrowing area. Ethereal oils support the effect.

The very good litter property and the good skin compatibility are confirmed in practice.

With PROFIDRY Schaumann offers a universal and effective hygiene powder without the critical components zinc or copper. SCHAUMANN hygiene powder supplement regular disinfection measures and helps to optimize the barn environment.
For further information please contact a SCHAUMANN consultant or our head office.

SCHAUMANN Agri International – An der Mühlenau 4 – 25421 Pinneberg
Telefon: +49 4101 218- 5300
Fax: +49 4101 218- 5399
info@schaumann-agri.com
www.schaumann.info
Your contact
SCHAUMANN Press Services
Tel: +49 (0) 4101 218-5607
Fax: +49 (0) 4101 218-5699
Send an e-mail...

Download
1.305 characters
Download press release!