SCHAUMANN ENERGY VITAL supports fertility and milk yield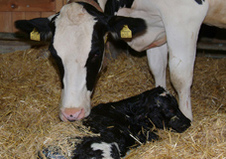 © agrarfoto.com
It is estimated that up to 40% of bovine embryos die within the first 28 days after insemination. Although the cows go into heat, the fertilised egg cannot subsequently implant itself in the uterus. SCHAUMANN ENERGY VITAL has a positive influence on the fertility of dairy cows.
Dairy cows, especially in the first lactation third, have an enormously high metabolic capacity, which causes a high blood flow through the liver. This results in increased degradation of progesterone, the most important pregnancy protection hormone. Almost every second embryo loss is also due to the cow's weakness of the corpus luteum. The corpus luteum does not produce enough progesterone to maintain pregnancy. Despite good health and vitality, especially in dairy cows with a high milk yield, this leads to an extended tasting time and a too low conception rate (see figure 1).
Omega-3 fatty acids support growth of corpus luteum
Omega-3 fatty acids belong to the polyunsaturated, long-chain fatty acids. They stimulate the growth of the corpus luteum and ensure the increased formation of progesterone. They also suppress prostaglandin - the hormonal antagonist of progesterone. Many of the usual feedstuffs contain only small amounts of omega-3 fatty acids (see figure 2). This applies in particular to rations based on maize silage.
SCHAUMANN ENERGY VITAL has a positive effect at fertility.
The unique concept of SCHAUMANN ENERGY VITAL is based on the effect of specifically added omega-3 fatty acids from linseed. The rumen-protected fatty acids are not converted by the rumen microbes, but are available to the cow at the small intestine. They directly promote progesterone formation, have a positive effect on the fertility process and actively support implantation, nutrition and survival rate of the embryo (see figure 3).
SCHAUMANN ENERGY VITAL combines the proven properties of a rumen-protected fat with the innovative advantages of fertility-promoting omega-3 fatty acids. This improves insemination success at the beginning of lactation. At the same time, the energy deficit is reduced and the milk yield increases. SCHAUMANN ENERGY VITAL is used especially in the 1st lactation third with 200-500 g/animal and day and in the transit phase with 50-150 g/animal and day.