BONSILAGE. Measurably improved feed quality
21.03.2017 -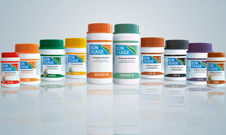 BONSILAGE-range
The new BONSILAGE-range with BASIC-, SPEED and FIT-products offer for each silage sector a solution-oriented product. The whole specialist knowledge of SCHAUMANN-research flows into continues selection and registration of suitable bacteria strains.
BONSILAGE-Basic products establishes measurably improved feed quality. They optimise the fermentation process, silage stability and increase the amount of undegraded dietary protein (UDP) in the silage (see figure 1). The forage performance increases.
Bonsilage-Speed-products ensilage measurably faster. They contain new bacteria strain L. diolivorans. After already two weeks, the energy-rich silage with high aerobic stability can be fed to the animals (see figure 2).
Bonsilage Fit silage additives improves measurably cow fitness. They move the fermentation acid patterns to more acetic acid and propylene glycol at simultaneous high aerobic stability (see figure 3). The risk for ketosis and acidosis decreases.
Download figure BONSILAGE
Download
747 characters
Press release!