Climate-friendly milk and biogas production at Hülsenberg Estate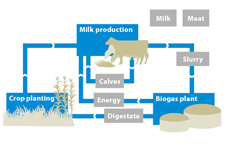 Productionsystem of Hülsenberg, simplified description
Greenhouse gas balances have been prepared for biogas and milk production, including forage production, at Hülsenberg Estate in cooperation with the Chamber of Agriculture of Lower Saxony. These balances reveal our operational strengths regarding climate protection and form the basis for identifying potential for further improvement.
The farm at Hülsenberg Estate in Wahlstedt, which is owned by the SCHAUMANN Group, has prepared greenhouse gas balances for milk and biogas production for 2012 in cooperation with the Chamber of Agriculture of Lower Saxony (see downloads). The results of the greenhouse gas balances have been compared with those of other farms as part of a benchmarking process. This process has not only revealed operational strengths regarding climate protection, but has at the same time identified potential for further improvement on this basis. The measures developed as a consequence will support the farm in reducing the environmental impact of milk production even further.
At Hülsenberg Estate, production and utilisation of feed can be specifically controlled
The production of crops as staple feed and fermentation substrate has been identified as the main source of greenhouse gas emissions in milk and biogas production. The main regulators to be applied to these emissions from forage production are optimally managed nitrogen fertilisation and field management to support soil health. As crops are produced internally at Hülsenberg Estate, these key factors can be optimally adjusted to the local, technical conditions of production. Feed conversion by animals and associated fermentation have been identified as another decisive factor affecting the greenhouse gas balance of milk that can benefit from specifically controlled feed quality.
Internal utilisation of liquid manure offers potential for emission control and energy utilisation.
Additionally, the liquid manure produced at Hülsenberg Estate is utilised in the estate's own biogas plant, which achieves a range of benefits. Part of the liquid manure is, for example, stored in gas-tight tanks to prevent considerable emissions of gas into the air. Anaerobic fermentation of liquid manure in the biogas plant additionally supplies energy that is used by the estate itself and fed into the public grid. Another advantage lies in the improved availability of nutrients from fermented liquid manure, which makes its use as organic fertiliser in forage production more effective and thus returns the manure to the system.
Closed production processes optimally utilise available resources.
The virtually closed production system at Hülsenberg Estate allows available resources to be optimally utilised. The various production parameters can be individually monitored, controlled and optimised. This provides for maximum efficiency and consistently high product quality.
Author
Dr. Karoline Reckmann
SCHAUMANN resource management
Contact
SCHAUMANN management for sustainability
Tel. +49 4101 218-1616
Fax +49 4101 218-3199
Send us an email