Reliable feed hygiene with SCHAUMANN TMR products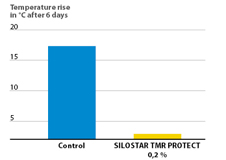 SILOSTAR TMR PROTECT keeps the TMR fresh
Feed mixes can easily overheat, particularly in the summer months. An unstable TMR always means energy loss, lower digestibility and reduced nutrient intake. The yeasts that cause heating usually enter the TMR through warm silage or other unhygienic components.
Yeast development is promoted by sugary components, long mixing intervals and high ambient temperatures. SILOSTAR TMR PROTECT (granules) or SCHAUMASIL TMR products (liquid) can help in these cases. The high-value TMR remains stable and hygienically perfect. The feed is more palatable and delivers higher performance.
All-purpose feed protection
A study by IS Forschung in Wahlstedt examining the aerobic stability of TMR with 0.2% SILOSTAR TMR PROTECT per tonne of TMR shows impressive results: After six days, unlike the control the treated TMR was still perfectly hygienic and aerobically stable, as is shown in the diagram. A temperature increase of more than 3° C, as observed in the control, brings about aerobic instability.
SILOSTAR TMR PROTECT is a mixture of silage additives for use with stocks of TMR. The product is easy and unproblematic to use and is therefore ideal for use in mobile feed mixers without a special dosing device. Stocks of TMR and the feed mix offered remain stable for longer with no great technical effort.
For liquid use, the special product SCHAUMASIL TMR with its active ingredient combination of ammonium propionate, propylene glycol and glycerin has proved beneficial in practice. The product also has the effect of regulating the animals' blood sugar levels and relieving stress on the metabolism. SCHAUMASIL TMR PRO (ammonium propionate) is also ideal for stabilising feed mixers. For use with other special TMR products in the SCHAUMASIL range with different combinations of propionic acid, propylene glycol and glycerin, as well as SCHAUMASIL products.
Contact
Research & Developement
Devision Cattle
Phone + 49 4101 218-3000
Fax   + 49 4101 218-3199
Send us an e-mail...

Contact
Research & Developement
Devision Hygiene
Phone +49 4101 218-3000
Fax     +49 4101 218-3199
Send an e-mail...

Product range
Silage additives and feed hygiene