AKTIMAG - organically bound magnesium with high bioavailability

SCHAUMANN developed with AKTIMAG magnesium in a highly available form. In a patented procedure, the mineral will be yield in a complex with two molecules of amino acids. Thereby it remains stable in the digestive system and is highly available for the organism. AKTIMAG is used in feeding for pigs, poultry and ruminants.

The supply of magnesium has an essential importance in animal nutrition

Magnesium is an essential mineral and a useful nutrient. It affects the stimulus conduction through the nerve and muscle cells and is responsible for an optimal interaction. Undersupply conducted to hyper excitability of nerves as well as excitement of the animals.

Magnesium is also an important component of skeleton and teeth as well as an activator of more than 300 enzymes. It affects the elasticity of bones and is in addition to potassium an important mineral component of cells.

The form of the binding of magnesium affects the quality in animal nutrition

AKTIMAG is an organic connection of the macro element magnesium and the amino acid glycine. The combination of magnesium with two molecules of glycine is a special feature. As a result the fundamental advantage is therefore during the digestion: Magnesium is due to his double complex with glycine so stable, that there is no reaction with another anion like phosphates or proteins. In this way magnesium stays highly available.

Patented procedure provides the advance for customers of SCHAUMANN

Magnsium-glycinate is produced in an ISF SCHAUMANN RESEARCH patented solid reaction process. In addition to the higher availability, the special binding conducts to the high amount of minimum 11,5 % magnesium. AKTIMAG is also listed in the German positive list for straight feeding stuffs, which enables an unlimited and animal genus-independent use.

Positive effect of AKTIMAG is proven

Feeding trials in pigs and poultry has proven the positive effect of AKTIMAG. In feeding trials with broilers, AKTIMAG shows a five time higher availability of magnesium in comparison to magnesium oxid. Also the demand of magnesium in difficult metabolic situations (e.g.: high performance phase, stable change or transport) is due the use of AKTIMAG optimally ensured. Excessive stress as well as nervousness and aggressiveness is efficiently decreased.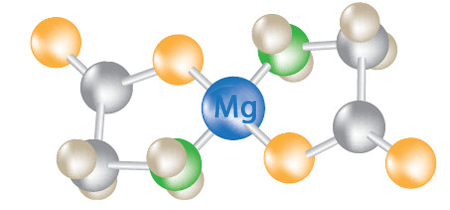 Molecular structure of magnesium-glycinate AKTIMAG