Company history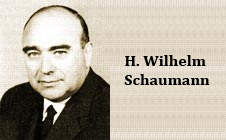 In 1938 H. Wilhelm Schaumann finds a way of extracting vitamin concentrates from cod liver oil and fish oil for use in agriculture. At that time farmers lacked high quality feed for their animals and fishery by-products were in plentiful supply. The young entrepreneur is successful.
In the coming decades, the company can look back on a remarkable milestones in its development.
"Phosphoral makes an impact"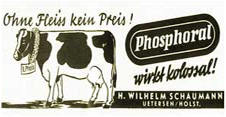 Phosporal makes an impact!
Wilhelm Schaumann develops the innovative company concept:
Home-produced feedingstuffs supplemented with SCHAUMANN-products.
1938
Establishment of the company
1948
PHOSPHORAL – first feed-stuff for piglets
• Establishment of DURAG-Industrieelektronik
"The animal tells the truth, not the laboratory"
The Huelsenberg estate provides optimal conditions for field-based research!
The company acquires the Huelsenberg estate and turns it into an experimental station. At that time universities had insufficient animal housing capacity and animal numbers to make available for field trials. SCHAUMANN is now able to link together production and research and success follows quickly.
1950
First edition of the journal "Tierernährung", which was the forerunner of "Erfolg im Stall"
1953
Acquisition of Gut Huelsenberg, which will become more and more the SCHAUMANN research center HUELSENBERG
1959
 Beginning of SCHAUMANN consulting service
Moving forward towards modern animal production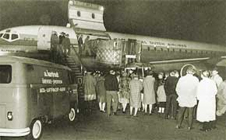 Holstein-Frisians are imported
SCHAUMANN achieves substantial increases in milk yield by introducing the first cubicle shed for cows and crossing Holstein-Friesians with German Friesians (Schwarzbunte). In the years to follow SCHAUMANN participates in the development of caesarean delivery of SPF piglets and artificial insemination to establish the Huelsenberg Breeding Pig programme. The "Huelsenberger Gespraeche", an interdisciplinary scientific workshop on progress in livestock production, is held for the first time. The H. Wilhelm Schaumann Foundation is established. Farmers will now recognize the SCHAUMANN colors and the SCHAUMANN-Logo. With "Erfolg im Stall", SCHAUMANNS inhouse customer magazine, customers will get current information at regular intervals.
1961
Subsidiary set up in Austria
1964
Subsidiary set up in Switzerland
1965
Beginning of the "Huelsenberger Gespräche" a scientific symposium held in a 2-year cycle
1966
Establishment of UNION AGRICOLE HOLDING AG
The production plant in Hamburg was put into operation
Launch of the sow breeding program HÜLSENBERGER ZUCHTSCHWEINE
1967
Establishment of the "H. Wilhelm Schaumann Foundation" to promote agricultural sciences
1968
The company logo "Schaumann – breeds success" was born
Publication of the company's magazine "Erfolg im Stall"
Development of SCHAUMANN hygienic programme
Investments and growth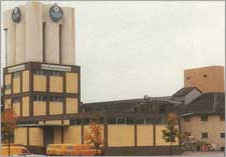 The new feed mill in Taufkirchen, Austria
The productivity of agriculture is growing at an enormous rate. SCHAUMANN invests heavily in the years that follow: on one hand into production plants in Austria and Germany and on the other hand into research companies.
1972
Acquisition of the feed mill in Taufkirchen (Upper Austria)
1974
Construction of the administration building in Pinneberg
1979
The SCHAUMANN-production plant in Feuchtwangen was put into operation
Research and technique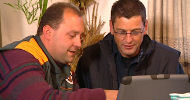 PC supported expert advice
Technological improvements accelerate progress:
Structures in counseling and research are improved. With the development of the PC supported expert advice and the establishment of an own research company SCHAUMANN starts into the new millennium.
1984
Establishment of the ISF SCHAUMANN FORSCHUNG
1985
Acquisition of HAKRA – Hanseatische Kraftfutterwerke in Hamburg
1986
Organization of PC supported SCHAUMANN-expert advice
1989
Development of the complex of active ingredients named BOVIN-S-KOMPLEX as a component of mineral feed for cattle
SCHAUMANN quality worldwide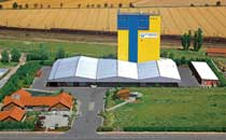 The production plant Eilsleben is put into production
Certifications are effected in accordance with all major quality programs. PROVITA LE and the SCHAUMANN active ingredients BOVIN-S-KOMPLEX and ASS-CO-FERM are innovations in the cattle segment. Farmers can use our products worldwide due to our subsidiaries and affiliates. The company continues to grow.
1993
The production plant Eilsleben is put into production
1994
Subsidiary set up in the Czech Republic – SCHAUMANN CR s.r.o.
Subsidiary set up in Slovakia – SCHAUMANN slovensko
Acquisition of Lactosan Starterkulturen GmbH in Austria
1995
Certification in accordance to EN ISO 9001
Development of the complex of active ingredients ASS-CO FERM as a component of mineral feed for cattle
1996
Presentation of the new maternal line of the Huelsenberger Zuchtschweine (breeding pigs) "EUROC"
1997
Development of the first SCHUAMNN-probiotic named PROVITA LE
1998
Recertification according to EN ISO 9001
Certification in accordance to GMP
1999
Subsidiary set up in Poland – SCHAUMANN Polska Spólka z.o.o
Development of the complex of active ingredients HERBAMIN as a component for pigs mineral feed
Microbiology for animals and plants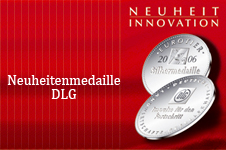 Winning of the Innovations Medal from the DLG (German Agricultural Society) for SILASIL ENERGY
SCHAUMANN takes over the lead through probiotics and becomes a partner of energy industry.
Combinations of homo- and heterofermentative lactic acid bacterias provide a basis for the unique biological silage additive BONSILAGE for ensiling forage. The development of SILASIL ENERGY, the first silage additive of energy corps, is awarded from the DLG as a forward-looking innovation.
2000
Launch of the SCHAUMANN silage additive program BONSILAGE / SILASIL
Development of the complex of natural active ingredients HERBALAC for calves
Achievement of the Bio certification through AliconBioCert GmH for organically produced foodstuffs
2001
Participation in the program "Offene Stalltür" in Bavaria with "A-Futter" as well as a participation on "Qualität und Sicherheit GmbH"
2003
Introduction of the SCHAUMANN-probiotic BONVITAL
2004
Establishment of the Ligrana GmbH
Introduction of the biological silage additive program Silasil Energy for energy crop silage for biogas production
Subsidiary set up in Hungary and France
2007
Establishment of the company Schaumann BioEnergy GmbH in Germany.
Establishment of Schaumann BioEnergy GmbH&Co.KG in Austria and OOO Schaumann Agri in Russia
2008
Construction of a biogas plant at Gut Huelsenberg
2009
Subsidiary set up in Croatia – SCHAUMANN Agri d.o.o
Subsidiary set up in Ukraine – SCHAUMANN Agri UA
The future of SCHAUMANN is green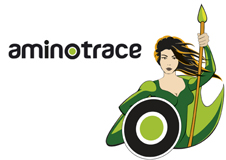 AMINOTRACE – Trace elements – organically bound
Topics such as resource conservation and sustainability get more and more importance - microeconomic and globally. With the establishment of the new Holdings ENBYCON and BIOTIC SCIENCE, the group manifests its activities in terms of renewable energy and biotechnology.
2010
New product-program RINDAMAST for fattening bulls
Divestment of renewable energy and biotechnology into their own holding structures ENBYCON and BIOTIC SCIENCE
Setting up of the subsidiaries SCHAUMANN Romania, SCHAUMANN Italy and SCHAUMANN Agri Trading (Shanghai)
2011
Development of the protein-rich feed component Ceravital for the appreciation of pig feed
2012
Launch of AMINOTRACE – organic-bound trace elements, which are developed and produced from SCHAUMANN
2013
Extensive modernization measures and the relocation of ISF SCHAUMANN FORSCHUNG leads to more focused and effective research and development work at Gut Huelsenberg
2014
The cell protection complex ZELLPRO as an innovative active ingredient will be used in the feeding program for cattle.
2015
Further development of the SGW factor for more safety, health and growth in calf rearing
Use of the active ingredient AKTIMAG in bull fattening for balanced animals through well-directed magnesium supply
2016
Enlargement of the AMINOTRACE trace elements by AMINOTRACE-Lysinate copper and zinc
2017
Relaunch of the BONSILAGE programme: BONSILAGE BASIC for measurably higher feed quality, BONSILAGE SPEED ensiles measurably faster and BONSILAGE FIT for measurably more cow fitness
Video
Imagevideo - english
Watch the video