Sustainability for animal welfare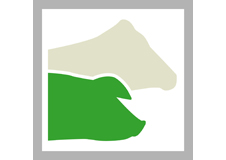 Animal welfare plays a central role for SCHAUMANN, in addition to ecological, economic and social aspects of sustainability. Animal health in particular is a top priority.
BONVITAL benefits pig and poultry health
The probiotic BONVITAL supplies viable forms of microorganisms that have a beneficial effect on the intestinal flora. The use of BONVITAL is demonstrably associated with a reduced need for antibiotics in pig and broiler farming, suggesting that it improves animals' overall health status.
PROVITA LE suppresses harmful microorganisms and strengthens the intestinal flora.
The microbial additive PROVITA LE is used in calf rearing. Its effectiveness has been shown in a number of studies, which have confirmed that PROVITA LE improves the immune status in calves.
CERAVITAL stabilises the gastrointestinal system
CERAVITAL a fermentation product from the fermentation of solids, offers improved availability of the valuable nutrients and active ingredients it supplies. In pig feeding, its special efficacy contributes to stabilising the gastrointestinal system. At the same time, CERAVITAL constitutes an easily available nutrient medium for intestinal flora, and its prebiotic properties support the development of a healthy intestinal flora and thus promote intestinal health, while suppressing harmful microorganisms.
AMINOTRACE improves animals' nutrient supply
Organically bound trace elements are more readily available than inorganically bound trace elements and therefore ensure that animals' organs and tissues are better supplied with these nutrients. This helps improve hoof quality and udder health. The use of AMINOTRACE promotes an overall better health status in animals.
AKTIMAG - targeted magnesium supply for balanced animals

The organically bound bulk element magnesium enables an adequate supply even in difficult metabolic situations. Results are: the reduction of stress-related anxiety, aggressivity and tension in animal stocks.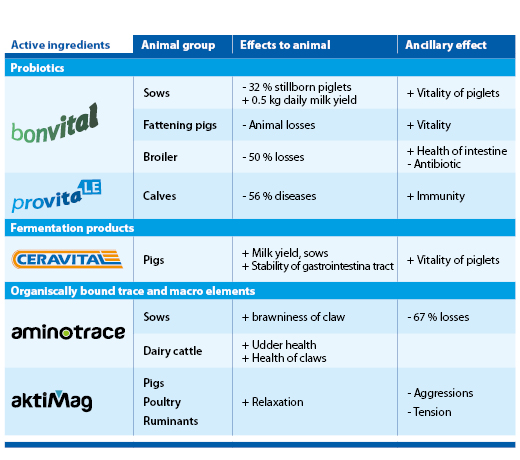 Effects and ancillary effects of active ingredients for animal welfare